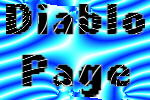 Diablo

Diablo is a Action Rollplaying Game made and Copyright by Blizzard
Klick here 2 show the Hints
The Untold Story - The Magix of Diablo - The Weapons of Diablo

Rollplaying in Splatter Style ?
Yeah it´s there Diablo and soon Diablo 2
check out the link for a shareware Version and for more Information

You have Diablo already and want want to say something ?
Searching for Multiplayer Matches ?
go here : http://www.battlenet.com

Here is a List of the greatest Hero Slayers I know on the Battlenet
If U are in Internet Game with these Persons and U don´t
want an Death Match make Sure 2 Disconect at once :
Name - Charakter - Player Killz Min.
Insameclown - Sorcerer - 431
Blakmagik - Sorcerer - 390
Earncklace - Warrior - 369
Wickedclown - Warrior - 213
Osiria - Rouge - 200

There is an ofical Ad-on for Diablo from Sierra Software
There is no Shareware Version of the Ad-on but if U want 2 know
more about it just got to : http://www.Sierra.com
I´m sorry but the Ad-on is only for SINGLE-GAME
here R somethings that R in the ad-on
1. A new Hero-Class the Monk
2. U can Chose Normal, Nightmare and Hell Skill also in Single Player
3. 2 new Grafixsets with a total 8 new Levels
4. ca. 30 new Monsters
5. new Unique Items
6. lots of new other Stuff

I don´t like cheating in Multiplayergames, so if U looking for
some Ad-ons like Townkill etc. U R wrong here and better go
to another Place and never return here !

---