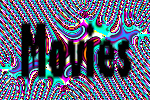 Splatter at the Movies

This is the No.1 Splatter Movie of all Times called Braindead
I never see so much Blood again in 1 Movie
the Site is hold by : Clan Braindead (Quake Clan) check it out
and take a look at : Braindead

Yes there is no other Film like Brainddead but this1 is very close to it
From Dusk till Dawn check it out a Film with Tarantino
The First half of the Film is like Natural Bornkillers and the second
is DA BOMB its Horror, Blood, Vampire everything !!!

The Classic of Horror Hellraiser with Pinhead
that Film shocked me it was the First Horror Film I ever see
now the work on the 5th Part check it out at :
http://www-personal.umich.edu/~rexerm/hell/
Gentelman this Guy have PAIN !

You all know the Gamez, most of U see the first Movie :
But now it happend again :
Once again a couple of Fighters meet for
In Cinema at November !!!

Horror , Blood & SFi ???
Yes some thing is Still alive and it is comming for U

Hint :
Did U know that Horror Movies with much Blood
are named "Splatter - Movies" ? Thats where my
Name is from and not from any XXX !

---